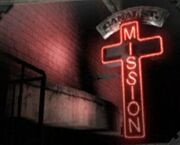 Canal Street Mission
is a location in
Baltimore
, featured in Chapter 5 of
The Suffering: Ties That Bind
.
During the Great Depression, a reverend used to feed people there with food which was, without their knowledge, made of humans. The people then rallied against the reverend when they learned of his sin. The legend behind a monster named the Gorger seems to be linked to this story.
Gameplay
Edit
In Chapter 5 Torque can choose to escort Hejirah to Canal St. Mission where he was supposed to find his friends. When the two reach the place, Hejirah is shocked to find none of them there. He stops at Canal Street Mission to wait for them while Torque continues on his path to the Grand Theater.
Ad blocker interference detected!
Wikia is a free-to-use site that makes money from advertising. We have a modified experience for viewers using ad blockers

Wikia is not accessible if you've made further modifications. Remove the custom ad blocker rule(s) and the page will load as expected.