NO MORE PRISONS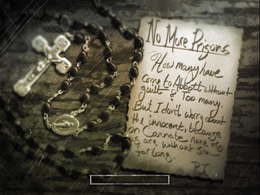 Previous chapter
Next chapter
No more prisons is the fifth chapter of The Suffering: Prison is Hell.
Gameplay
Edit
The level will start with Torque on a parapet. In front of him lies a small room where he sees Hermes. After going down the stairs, some inmates observe him and tell him to come over, but Hermes appears and gasses them.
There is a sequence where Torque sees a C.O. shooting down creatures. He will ultimately be killed and his shotgun will fall from the parapet for Torque to use it. The level ends as Torque reaches another prison block.
New items
Edit