EVERYTHING BEAUTIFUL IS GONE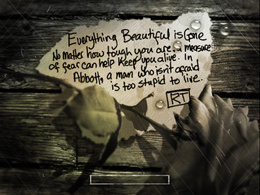 Previous chapter
Next chapter
Everything beautiful is gone is the seventh chapter of The Suffering: Prison is Hell.
Gameplay
Edit
In this level Torque meets Luthor and they venture to the radio building where Torque hears Killjoy calling him. This is also the first place where Torque uses reflectors to burn his enemies.
Torque has a vision with his family in which his wife tells him:"Cory always wanted to play with his father, but where were you?"
This is one of the shortest levels of the game.
Ad blocker interference detected!
Wikia is a free-to-use site that makes money from advertising. We have a modified experience for viewers using ad blockers

Wikia is not accessible if you've made further modifications. Remove the custom ad blocker rule(s) and the page will load as expected.