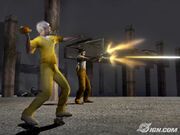 Clem
is an inmate who has managed to escape
Abbott
, having extensively planned said escape for some time. Having begun his escape before the cataclysm, his path took him through and out of the sewer pipe on the north-western corner of
Carnate
. The convicted killer and death row inmate,
Torque
, finds him in a near endless struggle to finish his escape by setting sail on his small, make-shift raft. His preferred weapons are Molotov Cocktails, and he will fight back using them if anyone attempts to attack him.
It is Clem who recorded the Monster Archives, and he is shown to relate the creatures' appearances with the island's history, demonstrating his prior knowledge of the island and implying he has been imprisoned for some time.
Having built himself a raft, he finds his voyage derailed by the Festers emerging out of the beached slave ship nearly non-stop. The inmate, Torque, is thought to have assisted him by entering the slave ship in order to stop the Festers from hindering his escape. The story continues that after the Torque helps him, he leaves a map of the prison basement with the location of several stashes of supplies.
His monster archive was later found by the foundation.
His voice was provided by Ross Douglas.