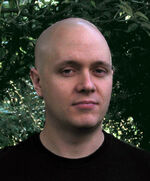 Richard Rouse III is an American video game designer and writer best known as the designer of The Suffering games and the author of Game Design: Theory & Practice.
Odyssey: The Legend of Nemesis (1996)
Damage Incorporated (1997)
Centipede (1998 PC Version)|Centipede (remake) (1998)
Drakan: The Ancients' Gates (contributions) (2002)
The Suffering (2004)
Homefront (2011)
Rainbow 6: Patriots (2013)
The Church in the Darkness (forthcoming)
Ad blocker interference detected!
Wikia is a free-to-use site that makes money from advertising. We have a modified experience for viewers using ad blockers

Wikia is not accessible if you've made further modifications. Remove the custom ad blocker rule(s) and the page will load as expected.