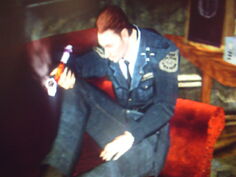 Sergei
is a corrections officer of Russian descent employed at Abbott. He is first heard over an intercom during "Darkest Night Eternal Blight" saying that he and an escort has reached the asylum, but explaining he hears sounds and the other has gone missing though he has a positive attitude (even chuckling at one point). He even asks for a beaker from the infirmary, implying that he is only slightly inconvenienced by the cataclysm's effects.
Sergei is found in the asylum, sitting on a couch and smoking marijuana. He is surprisingly calm and collected, resigned to his fate, and thinks he should at least spend his last few hours happy, though he wishes the power was back on so that he could listen to his music. He gives Torque some hints on where he should go in the asylum. It is considered a good action if the player restarts the generator and returns to Sergei's room, where Sergei will thank Torque for the effort. Of course, the player could kill him as an evil act. After the player has left the asylum, they can find a small shack with a small patch of marijuana with a sign that says "Sergei's Secret Stash, Live and Let Live". His fate beyond that is unknown.
He is voiced by John Patrick Lowrie.